I have been told that the only sense I have is my sense of humor. That being true, you can understand why I felt very much affirmed by Pope Francis this week.
A documentary, Pope Francis- A Man and His of His Word, premiered this week. In this rare collaboration with the Vatican, award winning producer Wim Wenders offers an intimate glimpse at the spiritual leader.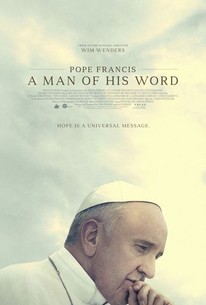 According to IMDb, the film "is intended to be a personal journey with Pope Francis, rather than a biographical documentary about him. The pope's ideas and his message are central to this documentary, which sets out to present his work of reform and his answers to today's global questions."
Andrew Barker, writing in Variety Magazine, says "It's difficult not to be charmed by Francis' plainspoken demeanor, and his ability to retain the folksy conversational style of a simple parish priest even when speaking from the impossibly elevated confines of the Holy See. He has a surprising sense of humor."
You might not expect the Pope to have a sense of humor. After all, he shoulders great responsibility as the spiritual leader of 1.2 billion Roman Catholics worldwide. The Pope is generally considered to be one of the world's most powerful people because of his diplomatic and cultural influence.
Perhaps it is the weighty responsibility of being the spiritual and temporal head of the oldest continuing international organization in the world that demands a sense of humor in order to keep things in perspective.
It really should not be surprising that the Pope would have a sense of humor. After all, many great and famous people have acknowledged that it is a necessity. Mahatma Gandhi said, "If I had no sense of humor, I would long ago have committed suicide." The famous clergyman, social reformer, and speaker of the 19th century, Henry Ward Beecher, said "A person without a sense of humor is like a wagon without springs. It's jolted by every pebble on the road."
But how does Pope Francis maintain a sense of humor when confronted daily with such gigantic responsibilities? Pope Francis says that he prays to the English martyr St. Thomas More* daily. He prays to the saint for good humor, adding that a healthy dose of humor in our daily lives is very beneficial.
What does "a good sense of humor" actually mean? While there is a difference between being funny and having a sense of humor, both are important. Southern radio personality, Ludlow Porch said you are funny if you can tell a well-timed good joke. But a humorist, he said, was one who sees the funny and absurd side of life.
Thank you Pope Francis for claiming and endorsing the need for a good sense of humor.
Jamie Jenkins
*Prayer for Good Humor
by St. Thomas More
Grant me, O Lord, good digestion, and also something to digest.
Grant me a healthy body, and the necessary good humor to maintain it.
Grant me a simple soul that knows to treasure all that is good and that doesn't frighten easily at the sight of evil, but rather finds the means to put things back in their place.
Give me a soul that knows not boredom, grumblings, sighs and laments, nor excess of stress, because of that obstructing thing called "I."
Grant me, O Lord, a sense of good humor. Allow me the grace to be able to take a joke to discover in life a bit of joy, and to be able to share it with others.