At the beginning of a new year many people make New Year's resolutions. It is an attempt to express one's intention to "to change an undesired trait or behavior, to accomplish a personal goal or otherwise improve their life" (Wikipedia). I am not one of those people.
One study found 46% of participants who made common New Year's resolutions (e.g. weight loss, exercise programs, quitting smoking) were likely to succeed, over ten times as much as those who decided to make life changes at other times of the year.
Darin P. St. George, a personal trainer who works under the pseudonym Trainer X at Gold's Gym in Natick, Mass., suggests that New Year's resolutions are as fleeting as the rose petals littering the streets of Pasadena after the Rose Bowl parade has gone by.
Jason Elias, PhD, a staff  psychologist at McLean Hospital in Belmont, Mass. says it's OK to make New Year's resolutions, but only if you see them not as unbreakable promises to yourself, but as positive statements about possibilities.
"What New Year's resolutions tend to be is a statement of your motivation of your intentions — like a bit of cheerleading for yourself." He tells WebMD. "But the problem with that is that sometimes people set their goals too high, such as 'getting my life back on track,' and those things are way too big to keep track of, to know whether or not you're even making progress on them."
Since I do not engage in the tradition of making New Year's Resolutions I cannot offer any personal experiences of success or failure at accomplishing them. I will not pass on any suggestions of their value but in the early stages of 2018 I want to share some advice given by one of the world's greatest leaders.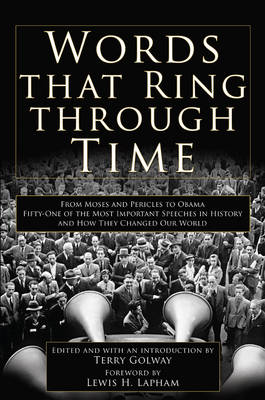 In his book Words That Ring Throughout Time, Terry Golway includes the words of  Moses, the great Liberator of the Jewish people 3000 years ago. After leading the Israelites for over 40 years, they are about to cross into the Promised Land. But Moses is faced with the reality that he will not enter with them. As he prepares for his death he addresses the people.
The Book of Deuteronomy contains Moses memories of the long and treacherous journey from exile in Egypt. As he prepares to turn over the leadership role to Joshua, "Moses issued a stern warning, leavened by encouragement and the promise of rewards for keeping faith in God" (Golway).
With the first month of 2018 almost half gone, I offer the words of Moses as guidance for the future.
Listen obediently to God and keep the commandments and regulations written in this Book of the Law and turn to the Lord your God with all your heart and with all your soul.
I set before you today life and what's good versus death and what's wrong. And I command you today: Love God, your God. Walk in his ways. Keep his commandments, regulations, and rules so that you will live, really live, live exuberantly, blessed by God, your God, in the land you are about to enter and possess.
But I warn you: If you have a change of heart, refuse to listen obediently, and willfully go off to serve and worship other gods, you will most certainly die. You won't last long in the land that you are crossing the Jordan to enter and possess.
I call heaven and earth as my witnesses against you right now: I have set life and death, blessing and curse before you. Now choose life—so that you and your descendants will live by loving the Lord your God, by obeying his voice, and by clinging to him. That's how you will survive and live long on the fertile land the Lord swore to give to your ancestors: to Abraham, Isaac, and Jacob.*
Jamie Jenkins
*Deuteronomy 30:10, 15-20 adapted from The Message, The Common English Bible, and The New International Version