Do you have a sibling, co-worker, or friend who gets all the attention and accolades and you feel like you are invisible? If so, you can probably identify with Charles Wesley.
Charles and his brother John were key figures in a significant historical and religious movement in 18th century that sought to reform the Church of England. The movement was a part of what some defined as "a dramatic, divinely inspired return to true Christianity (that) balanced the moral budget of the British people."
The Wesley brothers were leaders of a small group of believers and fellow students at Oxford University in the first quarter of the 1700s. They became known as the Methodists because of their methodical devotion to prayer, frequent attendance at Holy Communion, serious Bible study, and regular visits to the prisons.
John is most often credited with being the "founder" of Methodism primarily because of his organizational ability and his preaching. Charles lived in his brother's shadow. However I believe the case can be made that Charles' role was equally important. Nevertheless he is often referred to as the "forgotten Wesley."
It has been said that Charles Wesley averaged 10 poetic lines a day (2 hymns a week) for 50 years. He wrote more than 6,500 hymns,* 10 times the volume that could be claimed by the only other candidate, Isaac Watts, who many regard as the world's greatest hymn writer. The compiler of the massive Dictionary of Hymnology, John Julian, concluded that "perhaps, taking quantity and quality into consideration, (Charles Wesley was) the greatest hymn-writer of all ages."
In describing Charles' work, Julian says, "The saying that a really good hymn is as rare an appearance as that of a comet is falsified by (his) work; for hymns, which are really good in every respect, flowed from his pen in quick succession, and death alone stopped the course of the perennial stream."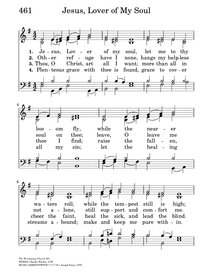 The famous preacher Henry Ward Beecher declared, "I would rather have written that hymn of Wesley's, 'Jesus, Lover of My Soul,' than to have the fame of all the kings that ever sat on the earth." Not bad commendation for the "forgotten" Wesley. One who lived in his brother's shadow.
Jamie Jenkins
*Some of the well-known and favorite hymns of Charles Wesley include:
Hark the Herald Angels Sings
And Can It be That I Should Gain
O For a Thousand Tongues to Sing
Love Divine, All Loves Excelling
Jesus, Lover of My Soul
Christ the Lord is Risen Today
Soldiers of Christ, Arise
Rejoice! The Lord is King!