In the late 18th century many European countries were engaged in violent revolution. England was not one of them. Some historians credit a religious movement in that country with creating a climate that prevented such upheaval.
The Methodist Movement, spearheaded by John Wesley and his brother Charles, had its origins in the academic environment of Oxford. They were joined by a small group of other students in rigid religious rituals. Because of their methodical approach in their devotional and charitable activities they began to be called the "Methodists," a derisive term.
This small group of people became known as the Holy Club. They rigorously practiced the spiritual disciplines of prayer, Bible study, fasting, and accountability but their religious fervor was not limited to such acts of piety. They regularly visited the prisons and hospitals. They established schools for poor children, offered basic medical care for those who could not afford it, provided housing for poor and elderly widows and their children, and much more.
The long term effect of this movement was due largely to the well-disciplined organizer, John Wesley. To what did he owe his strong faith, persistence, and tolerance?
Much is known about the impact of John's mother, Susanna Wesley. She has been called the Mother of Methodism. "Her example of faith and religious reverence she set for her children inspired them to become powerful spiritual leaders and to launch the Methodist Movement." Her constant devotion and strict discipline to the education and spiritual formation of her children certainly impacted John, the 15th of her 19 children.
Adam Hamilton* says, "If John learned about his faith from his mother, he learned how to deal with disagreements from his father and grandfathers." His grandparents on both sides of his family were dissenters from the established Anglican Church but his parents were committed Anglicans. John "adopted a posture that is often called the via media- a middle way- that found truth on both sides of the theological divide."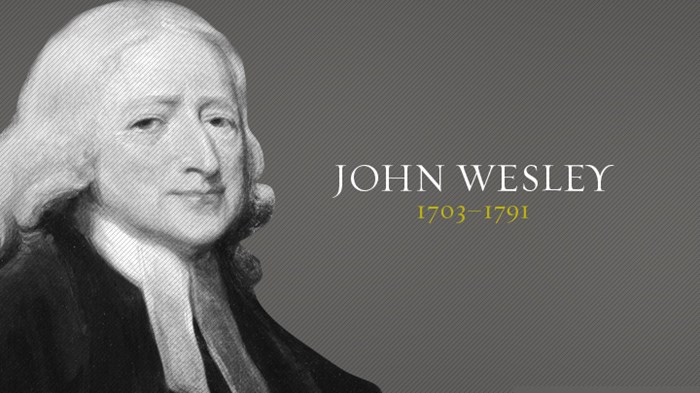 In one sermon that is among John Wesley's most famous he said, "Though we can't think alike, may we not love alike? May we not be of one heart? Though we are not of one opinion? Without all doubt, we may."
Hamilton suggests that this spirit of Wesley leads us to "give them the benefit of the doubt. We assume the best in others, not the worst. We speak well of others, not poorly. We treat them as we hope to be treated. We listen more and talk less. We walk in other people's shoes and try to understand what they believe and why. This does not mean we give up our convictions, but it does mean we test them." The focus is intended learn what we have in common and to build bridges not walls.
It was this humble, listening, catholic spirit supported by a strong resolve to follow Christ wherever He would lead that transformed the religious practices and daily routines of people across England in the late 18th century. This helped to create a climate where social changes could be accomplished without widespread violence. One does not have to be a Methodist to see the value and to follow the precepts of Wesley but in doing so we just might make a better world.
Jamie Jenkins
*Revival: Faith As Wesley Lived It, Adam Hamilton, Abingdon Press 2014