I am practicing my breathing these days. Conscious of the need to take deep breaths and then slowly exhale. In. Out. Taking in fresh air and breathing out the carbon dioxide. It is good for my body, mind, and spirit.
We are now several days into the Lenten Season. This forty day period, not counting Sundays, leading up to Easter is a time for reflection and introspection. A time to slow down and focus on things that are important and eternal. A time to breathe.
It is a common practice during Lent to intentionally practice spiritual disciplines like prayer, fasting, and self-denial. Focusing on one's personal and spiritual self leads to a closer relationship with God and a fuller realization of the purpose of one's existence.
In addition to reading from my church's devotional book, I have also followed my pastor's suggestion and have been reading two chapters of the Gospels each day. There are 89 chapters in Matthew, Mark, Luke, and John so one can easily read through those four books during Lent.
The first chapter of the Gospel according to St. Matthew begins with the genealogy of Jesus. The first sixteen verses list 42 generations from Abraham to Jesus. "Abraham was the father of Isaac, Isaac was the father of Jacob," and so on down to "Joseph, the husband of Mary of whom was born Jesus, who is called Christ."
I was tempted to skip those opening verses with all the names but I decided to trudge through them. Those verses trace the lineage of Jesus through 42 fathers with the mention of only one woman by name, Mary, in verse 16. In reading that long list I discovered something interesting in verse 6: "David was the father of Solomon whose mother had been Uriah's wife."
Mary is the only woman named in the genealogy. However one other woman is mentioned but not named. Bathsheba's name is missing. Instead it says Solomon's mother "had been Uriah's wife."
The biblical story of David is certainly one of success. This young shepherd becomes king. He defeats giants, lions, and bears. He is the envy of every man. Then he reaches a low point in his life.
The story is told in the 2 Samuel 11-12 in the Old Testament. David slept with another man's wife while her husband was away at war. When he discovered that she was pregnant David devised a scheme to hide the truth. After this effort failed, David had Uriah killed and took Bathsheba to be his wife.
Nathan the prophet came to David and told him a story (II Samuel 12:1-7) that enabled David to see himself and his sin. From that encounter with Nathan, David penned the words of the 51st Psalm. The verses of this poem demonstrate David's awareness that knowing God's favor is far more important than everything else.
This Psalm takes on a very personal tone if we believe the Apostle Paul, that "all have sinned and fallen short of the glory of God." We don't have to wait for an "emergency session" with God to learn and apply the principles of David's experience.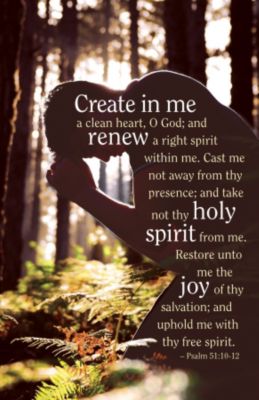 When David was confronted with his sinfulness, he:
responded by calling on God for mercy and forgiveness (1-2)
acknowledged his wrong doing, confessed his "bent to sinning," and trusted God's forgiveness (4-9)
looked to the future and sought God's help to be a different person. (10-12)
As a result of David's extra-marital affair with Bathsheba, a child was born but died a week after his birth. Then David and Bathsheba were blessed with the birth of another son, Solomon. He would become one of Israel's wisest kings. This story clearly illustrates that mistakes can have painful consequences. But it also shows how God can transform a mistake, even a serious one, into something good. All errors are not fatal IF we acknowledge our wrong doing, ask for forgiveness, and change our behavior.
O Lord, help us to know where we have sinned and give us the grace to follow David's example so that we can be right with You and do right by others.
Jamie Jenkins