Much of our identity comes from the formal and informal groups with which we relate or to which we belong. Civic clubs, charitable and political organizations, athletic booster clubs, religious groups, and many more appeal to different people. Recently I have become a part of the SSPS (Shoulder Surgery Patients Society).
SSPS is not an "official" group or organization but it has many adherents. I had no idea until a recent fall injured my left shoulder. After X-rays at the Urgent Care facility I was given a sling to support the weight of the arm. A follow up visit to an orthopedic doctor and an ultrasound determined that I had a torn rotator cuff and surgery was scheduled.
The rotator cuff is a group of muscles and tendons that act to stabilize the shoulder. These muscles are important in shoulder movements and in maintaining shoulder joint stability.
Rotator cuff injuries occur most often in people who repeatedly perform overhead motions in their jobs or sports. Examples include painters, carpenters, and people who play baseball or tennis. The risk of rotator cuff injury also increases with age.
Once I started wearing the sling it was obvious to others that I had an injury and people from everywhere began to tell me of their experience with shoulder problems. One 90 year-old friend said he had the same problem and his doctor told him that surgery was not an option because at his age they would find "nothing but mush" in his shoulder. The physician that performed my ultrasound said there was "some degenerative decay" in my shoulder. I think he was telling me the same thing my friend had been told.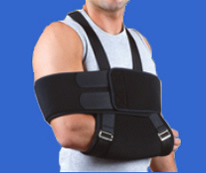 I have been in the supermarket checkout line and have someone look at my shoulder and ask, "Rotator cuff?" When I reply in the affirmative I have heard many different scenarios based on the experience of other folks. Most of them have been horror stories. How terrible the surgery is, how long it takes to recover, and how much pain is to be expected. I have been told more than once that "you will never be 100% again."
I had no idea that so many people had suffered a torn rotator cuff. In fact, it seems that those who have not are in the minority. Many well-meaning suggestions have been offered and some of them have been helpful. Others not so much so.
Four weeks after surgery and several times with a physical terrorist therapist I have increased the range of motion and look forward to beginning strengthening exercises after the shoulder repair has healed.
All things considered, it has been an interesting experience. I appreciate the genuine concern and empathy offered by strangers as well as close friends and acquaintances. Folks have been very helpful when they realize that some things take two hand/arms. Deference to one who has only "one good arm" has been welcomed at times and irritating at other times.
Another result of this injury is the awareness of how much I take for granted. Simple everyday functions are affected when one limb is weak. The discomfort from the shoulder makes it difficult to get comfortable enough to sleep. It is awkward at times to maintain balance and there are other irritating effects. I am fortunate that the injured shoulder is not my dominant one. Since I am right handed, it would have been much worse if I had fallen and hurt the right shoulder.
Ludlow Porch (his real name was Bobby Crawford Hanson) was a southern humorist who hosted a radio show in Atlanta for many years. He was not the kind of talk show hosts that is most prominent today. He made people laugh with his spoofs and conversations with his regular "Wackos." He would frequently refer to some experiences as "gnat bites." They would not kill you but they were very irritating.
In the grand scheme of things this is just an inconvenience. It is not life threatening. I am not totally incapacitated. I am not in excruciating pain. This is just a gnat bite.
Jamie Jenkins